"India has tremendous potential to become the food factory of the world"


- Mr Thomas Hübner
Chief Executive Officer
Metro Cash & Carry International GmbH, Germany.
(The Hindu Business Line Wednesday, Jul 07, 2004)


"Food Processing industry offers much larger potential compared to IT."

These comments are not an exaggeration, considering the advantages of agro-climatic conditions and enterprising farming community that India possesses. Being the second largest producer of fruits and vegetables and third largest producer of food grains, India enjoys an enviable position. India takes a pride place among the top five or ten countries for many a major crop. These offer exciting opportunity for the sun rise industry – Food Processing in India.

Agriculture is the lifeline to India with nearly two thirds of the population depending on agriculture and with 24% contribution to the nation's GDP

Favorable climatic conditions and varying climatic zones enable cultivation of multiple crops in more than one season at one place or the other. Systematic planning ensures product availability of many a crop throughout the year.

Opportunities for doing business with Indian Agriculture either in fresh or processed form are immense. Segments offering business opportunities for Domestic and Global markets include:
• Food grains
• Fruits
• Vegetables
• Plantation crops
• Processed Foods
• Dairy products
• Meat & poultry
• Aqua products

Indian Agriculture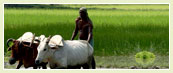 With nearly 12% of the global arable land, Indian Agriculture enjoys an enviable position. This is further reinforced with the following:
• 3rd largest producer of
food grains
• 2nd largest producer of fruits


Agribusiness Opportunities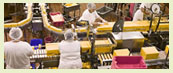 Opportunities to do business with Indian Agriculture are enormous. Some of them are stated hereunder.